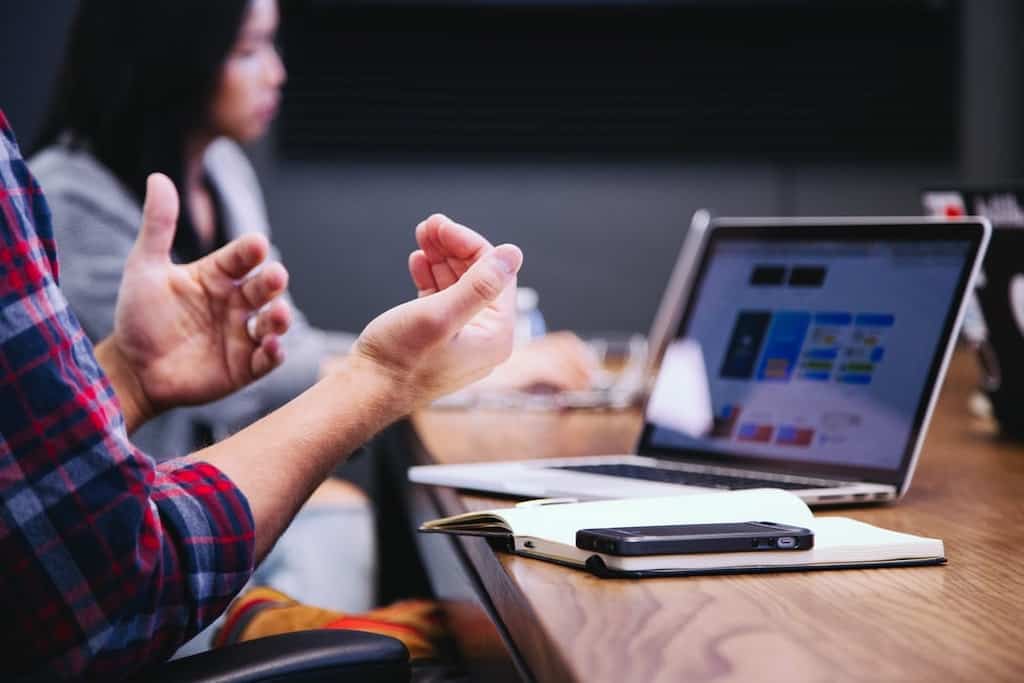 More clients mean more profit for your agency.
For agencies, getting more clients involves investing more time and effort in marketing and promoting your services. Yet, having a fully-booked schedule from profitable clients is easier said than done. There's a lot of competition from local and remote agencies, regardless of your niche.
That said, there is one strategy that's guaranteed to book you more clients: referrals or word-of-mouth recommendations.
Word-of-mouth is trusted by 86% of consumers which makes it the most trusted form of marketing. Likewise, 78% of marketers believe referral marketing produces "good" or "excellent" leads.
A job well done is guaranteed to generate more referrals. However, some agencies think the referral process will just happen naturally—but this is not always the case. Meanwhile, others don't proactively ask for referrals.
Now, how can your agency become more referable? Here are some tips to help you get started.
1. Provide great services
Referrals are a surefire way to get more clients at a much faster rate. Potential clients warm up quickly to agencies referred by friends, partners, and business associates—because they are trustworthy sources of information.
But you have to earn the referral from your current clients first. People only recommend great products and services because they want their network to have a great user experience.
As a result, provide clients with top-rated quality services to get their loyalty. Follow-up consistently and have transparent communication channels so they're satisfied with your services. Positive results from the project will make it more likely for them to promote your agency with their network.
2. Build your relationship with clients
Build your relationship with clients to improve your odds of obtaining a referral.
Treat them to a meal after wrapping up a big project. Invite them to relevant agency events and offer some exclusive products. These small gestures may seem inconsequential though they could pay off in the form of referrals.
Some premium clients with a lot of connections have an invaluable network that you'll greatly benefit from. Their satisfaction will not only lead to more projects but also introductions to top-tier clients.
Go above and beyond by sending personalized thank you letters during special events or after a project is finished. This VIP treatment will eventually lead to more long-term relationships and referrals.
3. Ask for feedback
Again, you must satisfy clients to become referrable.
It can be a challenge to determine the needs of your clients just by getting the job done. Although some may want to highlight points of improvement, they want to avoid back-and-forth comments and drama.
A report by Outcry found that only one out of every 26 customers complain. Meanwhile, the rest of the 25 customers will move on to another business without a word. No one wants clients to quietly end the working relationship for mysterious reasons. As a result, it's important to ask for regular feedback. Use Typeform and Google Forms to collect online surveys and identify points of improvement.
Here's an example of an agency feedback form you can ask clients to fill-out: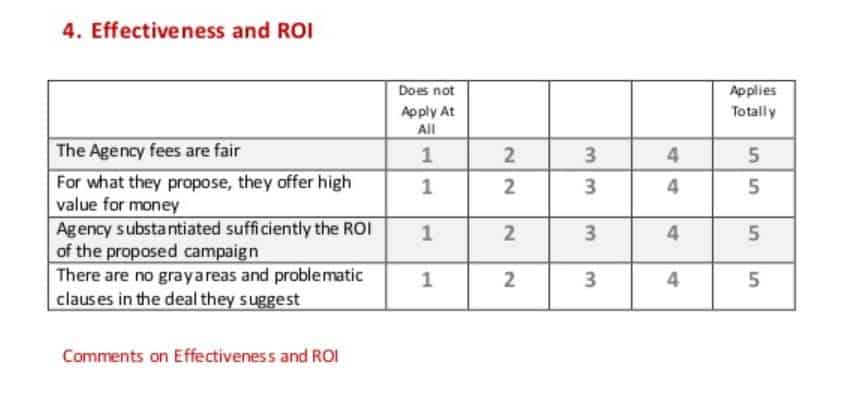 Feedback forms communicate your openness to feedback. It also encourages clients to discuss potential issues they have with your agency.
4. Ask for referrals
So, you've managed to satisfy your clients and exceed expectations. Despite your hard work, you won't automatically gain recommendations. You have to be proactive and ask for a referral.
Here's a sample email you can send to clients:
Good day [client name]
Thank you so much for trusting our agency to work with [ project or campaign ]. Since we've achieved [insert milestones] so far, we hope you're satisfied with the results of working with [agency name].
For the next quarter, we're looking for more clients to expand our business. We were wondering if you know any business or colleagues that would benefit from our services.
We look forward to hearing from you.
Thanks,
[Your name]
If you don't get an initial response, then that's perfectly fine. There's no need to send a follow-up email. Don't pressure clients to make a recommendation.
5. Build a referral program
Recall the last time you bought from a new brand or service. We bet you tried it due to referrals from trusted friends or acquaintances. Their honesty beats a sponsored ad so you gladly followed their recommendations.
While referrals can happen organically, a referral program lets you automate the process and encourage clients to make word-of-mouth promotions. This works by providing incentives such as cash or discounts in exchange for a successful recommendation.
For example, Google Workspace Referral Program lets brand advocates earn up to $2300 per domain in exchange for successfully recommending their business.

A referral program does not have to be limited to B2B and B2C businesses. You can also provide cash rewards or gift cards as incentives.
How to get started? ReferralCandy can help you build an automated referral system for your business. Simply create an account, create a referral landing page or emails, then the tool does the rest.
6. Find strategic partners
Partner with businesses or freelancers with the same target customers yet different services.
Are you a digital marketing agency for tech businesses or SaaS companies? Collaborate with freelancers or professionals that specialize in technical writing or UX design for startups and tech companies. Recommend your partners to your own clients so they are compelled to return the favor.
If you specialize in web design, partner with marketing or advertising agencies that don't offer these services. They may refer their clients seeking a website revamp to your business.
Create a list of viable partners for your business and get in touch with them. Mutual benefits from the partnership could bring about more clients for your business, as well as your partners. It's a win-win-win scenario.
7. Refer your clients
Before clients refer to your business, you may have to refer others to their business first. This way, they're encouraged to return the favor when you ask for a referral. Hence, consider introducing your clients to potential businesses that could benefit from their services. Clients are more likely to recommend your services when you do the same for them.
However, only recommend clients that you can vouch for. Whenever you refer to a business, your relationship with your business associates or acquaintances is also at stake. A bad experience with your referred clients may affect your own relationship with your partners. So, only refer to businesses that offer quality on par with your own.
8. Leverage LinkedIn features
Instead of randomly cold emailing potential clients, increase your chances of success with research.
Look up potential leads or clients using LinkedIn.
Next, use the Advanced People Search feature to find out whether you have shared connections. The mutual friend or associate could introduce you to the potential client.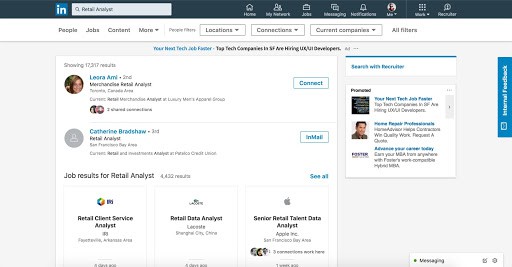 An introduction from a qualified connection is bound to generate more responses than a cold email. With this strategy, you're more likely to close deals and book projects.
9. Get the timing right
Timing is key when it comes to referrals.
People only refer to businesses they love. If you haven't established a long-term business relationship with a client, then you're unlikely to get a good referral.
Keep clients updated on key metrics to boost chances of success. What milestones has your agency achieved with regards to the current project? How did their business benefit from your services? Have you achieved the KPIs for the quarter?
Making them aware of your achievements will significantly improve the relationship. This also opens up an opportunity to ask for a word-of-mouth recommendation afterwards.
If your traditional marketing promos and Facebook advertisements helped break sales records, then it's probably the best time to ask for a referral. When a project has wrapped up and they're satisfied with the output, it's also an ideal time to ask for recommendations and seek out new projects.
But if you failed to hit the mark for this quarter, hold on to the referral request and ask in the future.
10. Provide valuable content
Clients appreciate valuable content which can help their business grow. Sharing relevant information is another opportunity to grow your relationship with clients and make your agency relevant. This works best if you and your client's target market work in the same industry.
Here are some types of content you can try out:
A blog post about industry trends
Webinars about trending topics in your industry
Free seminars or events
Ebooks and case studies
Keep in mind, you can use the content that you create in various ways to make even more income from it. For instance, blogging opens up many revenue channels if you utilize your content efficiently. Another tip is to ask clients for topics they'd like to learn more about. This way, target clients are guaranteed to benefit from your resources. Clients can also pass along your content to their network which makes it easy to refer your agency.
Ready to ask for referrals?
Referrals are a surefire way to get more leads for your business. A client referred by your past customers is more likely to trust your business. The achievements and results you've generated from your previous clients will also encourage referred clients to opt for your services.
I'll end this essay with a question for you: how are you generating referrals from clients?