Webinar previously recorded March 30, 2021 — 12:30pm ET
How to Reset your Agency for Success During Difficult Times
Agency Trailblazer host Lee Jackson takes us behind the scenes of how he successfully rebuilt his agency.
In 2008 the recession hit Lee and his agency very hard. For a couple of years, they floundered trying to appeal to multiple verticals and offering countless services in an eventual race to the bottom on price. Just at the point where tears were a regular occurrence and they were about to give in, someone shared the following wisdom:
"The definition of insanity is doing the same thing over and over again, whilst expecting different results."
Within days, the agency began a process of resetting — where they looked at their why, their strengths, their passions, their clients, and more. They went from a full-service agency struggling in multiple sectors to a successful niche agency offering only two services within a very targeted area of the conference industry.
Years later the agency has grown into two very specific businesses that have doubled down on their niches serving event organizers around the world with a globally distributed team of legends.
In this webinar you will hear about the journey directly from Lee and he will share:
The 5 stages of Agency Transformation
How to work out where you are at on the journey
How to choose what needs to change in your business
How to get started on resetting your agency
You don't want to miss this webinar. And stay tuned for the incredible Q&A at the end!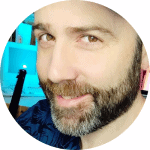 Lee is the host of the Agency Trailblazer Podcast, dad of 3 awesome kids, and happy agency owner at Event Engine.
Having gone through some very dark times in his agency and personal journey, he has a passion for teaching other agency owners how to fall back in love with their businesses again and develop a lifestyle that suits them.
You'll soon learn that Lee has zero interest in selling you anything, or helping you make millions. If he can help you get time with your family through the content he makes freely available, then that's a very happy Lee.