Webinar previously recorded November 3, 2020 — 12:30pm ET
Masterclass in Website Security
Join Akshat Choudhary, founder and CEO of BlogVault, MalCare, and WPRemote, as he shares the wisdom he's learned from dealing with 200,000+ hacked sites.
In this webinar, we'll talk about...
WordPress Security at its very core is constantly evolving. As hackers constantly find new ways to exploit, it's imperative to stay dynamic and be prepared for the worst.
Akshat Choudhary of BlogVault knows that understanding how hackers are hacking WordPress sites can go a long way in protecting them. And we're going to learn from his expertise in the next GoWP webinar.
Over the last 10 years, Akshat has dealt with more than 200,000 hacked sites. And he's using what he's learned to help agency owners identify weak points in their sites and hopefully be a catalyst to taking security more seriously.
In this webinar, we'll also…
Learn the best strategies to secure a site based on Akshat's analysis of 100+ hacked sites.
Take a behind the scenes look at the logs of hacked sites
Decode weak points and the method used to hack the sites
Show you how to properly protect a WordPress site against hackers
…and more!
Don't worry! We save time at the end for Q&A.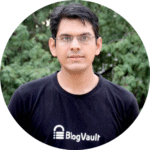 AKSHAT CHOUDHARY
Founder and CEO of BlogVault, MalCare, and WPRemote
Akshat has always prided himself on his ability to teach himself things. Since starting BlogVault, Akshat has transformed his side-project into a profitable venture that is scaling new heights in the Indian startup space. As a member of the WordPress community for almost a decade, Akshat's core belief when building any product is to ensure the end-user doesn't need assistance and to assist them in the best possible manner if they do.