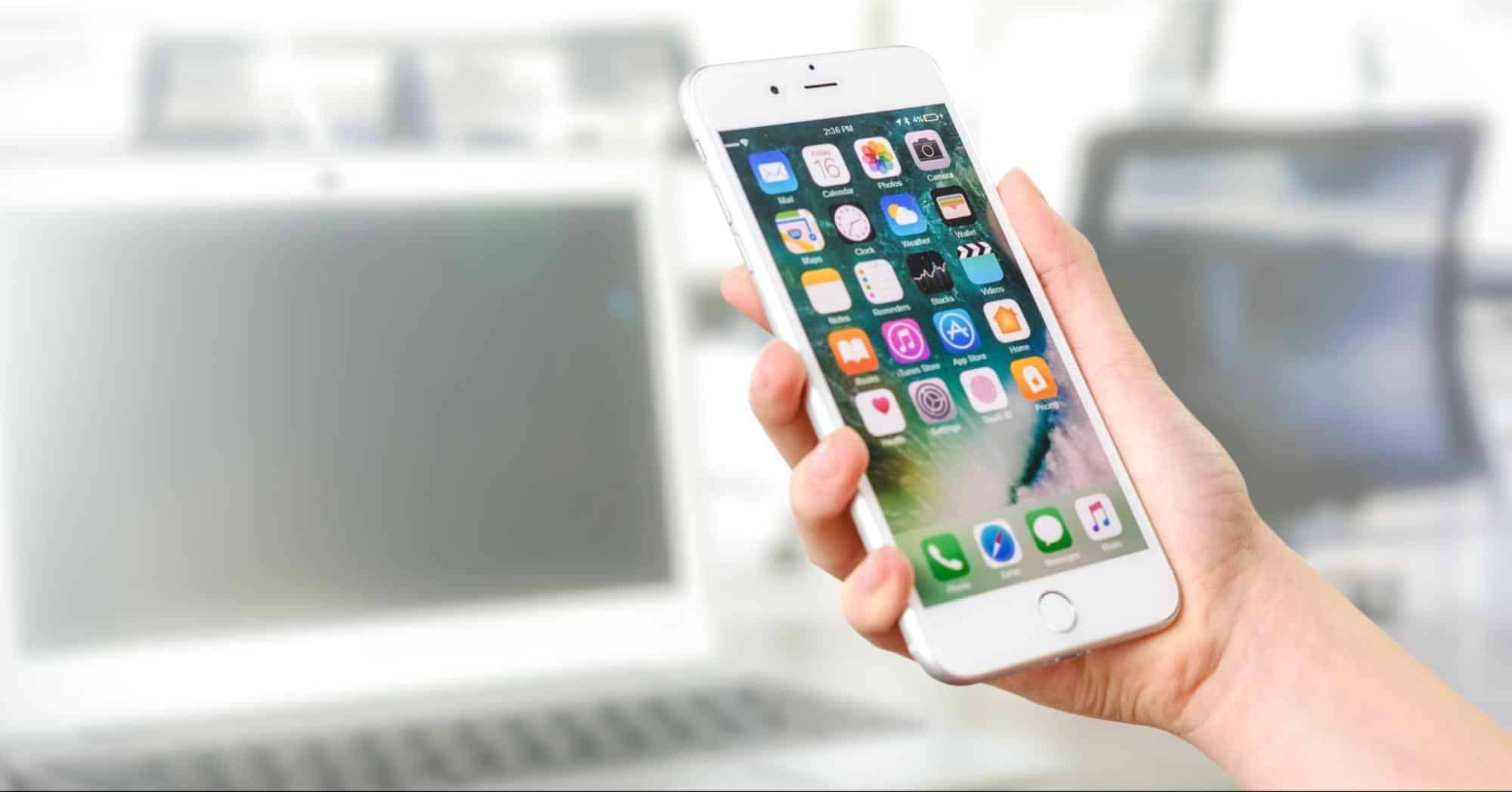 With the growing number of mobile users, you might be looking for a way to convert your client websites into mobile apps. However, without expert programming skills, this can be difficult to achieve.
Fortunately, there are several plugins that enable you to easily convert WordPress sites to mobile apps. This way, you can improve the mobile experience, increase engagement, and reach new audiences.
In this post, we'll take a closer look at WordPress mobile apps and their benefits for businesses. Then, we'll explore six excellent plugins to help you convert your client sites into mobile apps. Let's get started!
An Introduction to WordPress Mobile Apps
Most WordPress themes are fully responsive so that websites can adapt seamlessly across different screen sizes. However, you might still want to convert your WordPress site into a mobile app.
Mobile users account for nearly 60 percent of global web traffic. Therefore, it's more important than ever to prioritize the mobile experience.
By doing so, you can improve accessibility to your content since users will be able to view (and carry out certain activities) on mobile apps even when they're offline. Better yet, it's often much quicker to launch a website from an app compared to visiting a site in a browser.
It can also help you discover new audiences. In fact, 90 percent of Gen Z make use of mobile apps. If you're looking to market products to a younger audience, apps can be an effective solution.
Traditionally, you'd need to hire a developer to create an app for you, which can be quite expensive. However, nowadays you'll find several tools that can convert your site into an app, although some of them may still require a certain level of coding experience.
6 Top Plugins for Converting WordPress Sites to Mobile Apps
Now, let's look at six powerful plugins you can use to convert your WordPress site into a mobile app.
1. Appful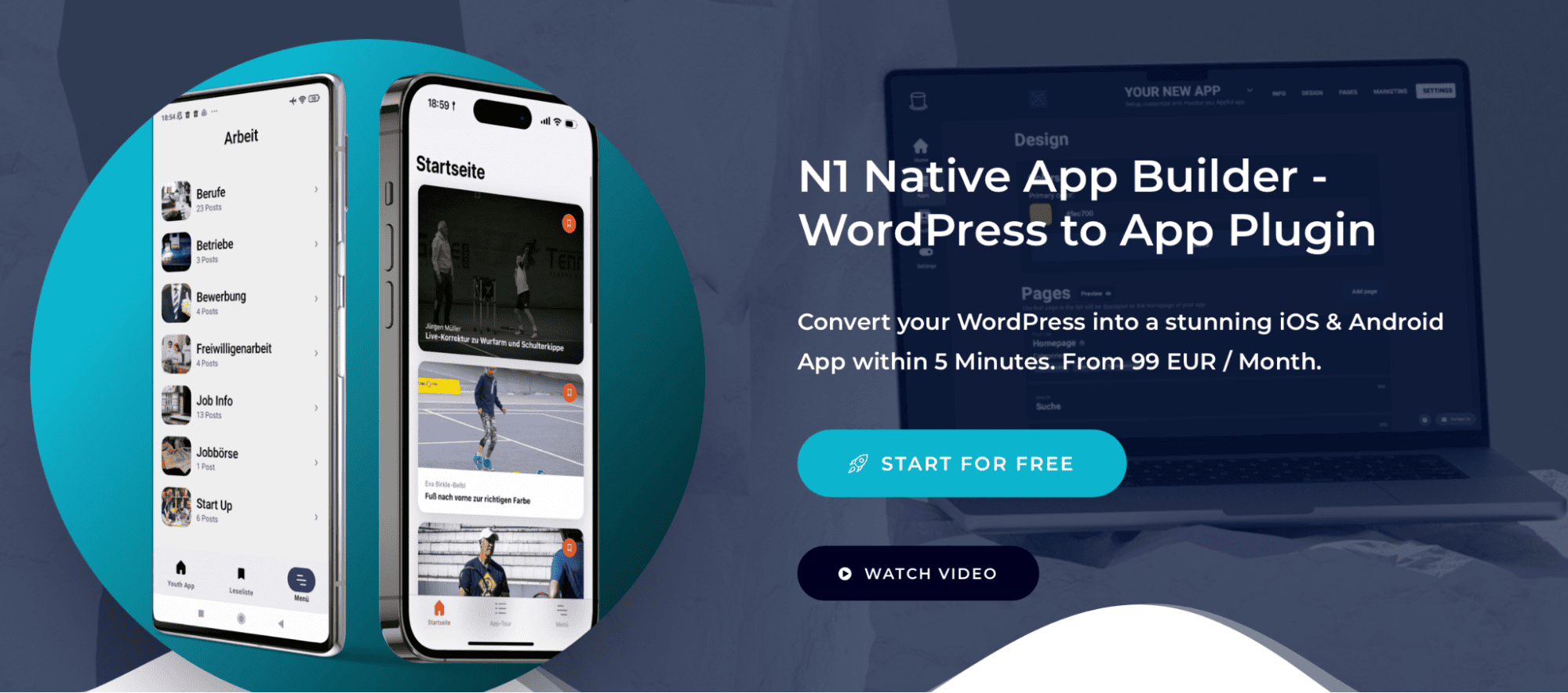 Appful is a powerful app builder that can help you convert WordPress to mobile apps. It enables you to turn content into a powerful marketing channel with neat features like native animations, push notifications, and App Clips: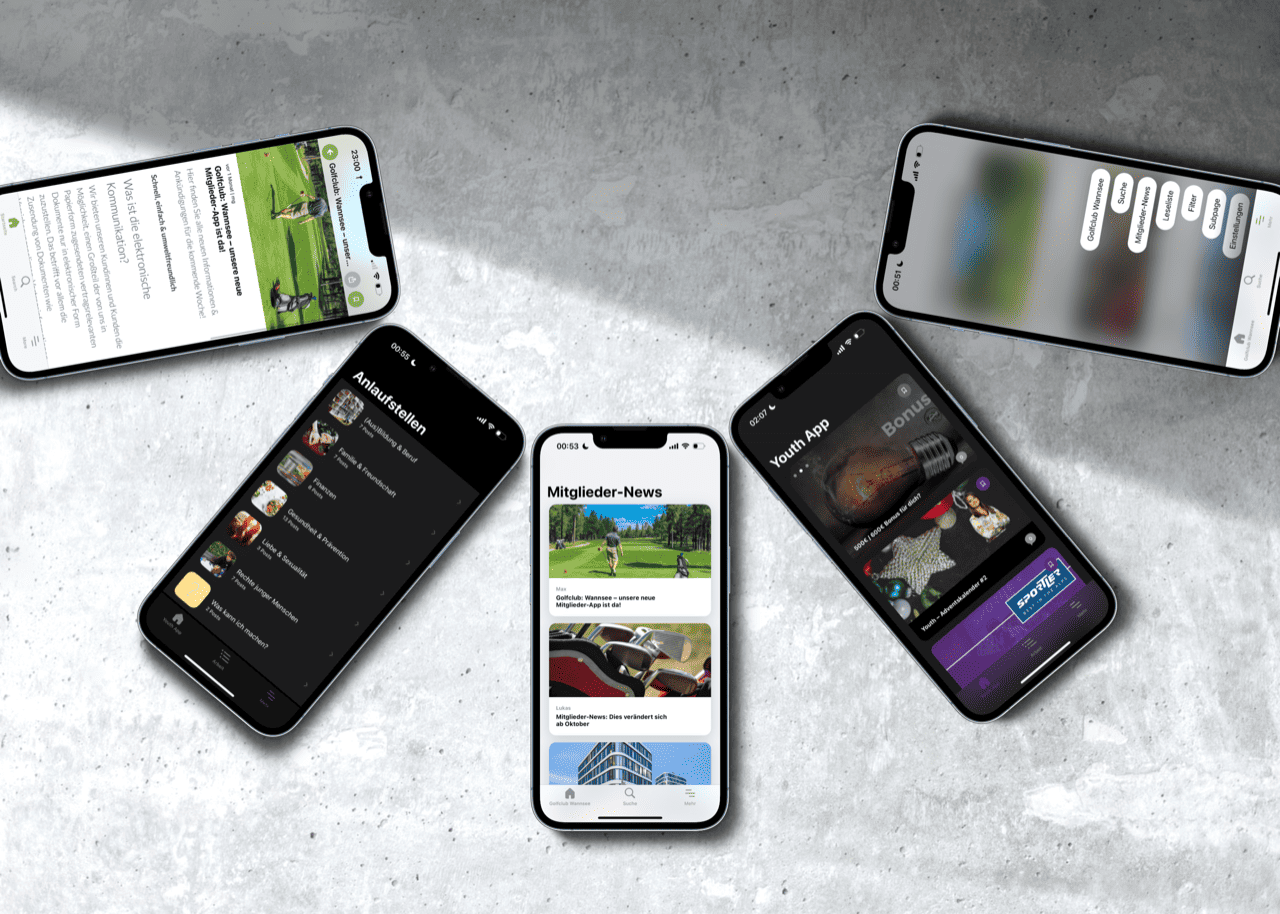 What's more, you can activate social features so that users can leave comments on articles. You can also provide app access for logged-in users, or hide content behind paywalls to generate recurring revenue.
Key Features:
Dedicated dashboard that enables you to build Apps within five minutes
Push notifications on the fly
In-depth analytics about app usage
App Clips with QR Codes or links
Free beta testing
24/7 support
Strict EU privacy rules
Offline functionality with caching built in
Dedicated iPad/Tablet Apps
Individual native features upon request
Open API for other CMS or Plugin support
Price: Plans start at 99 EUR per month.
2. MobiLoud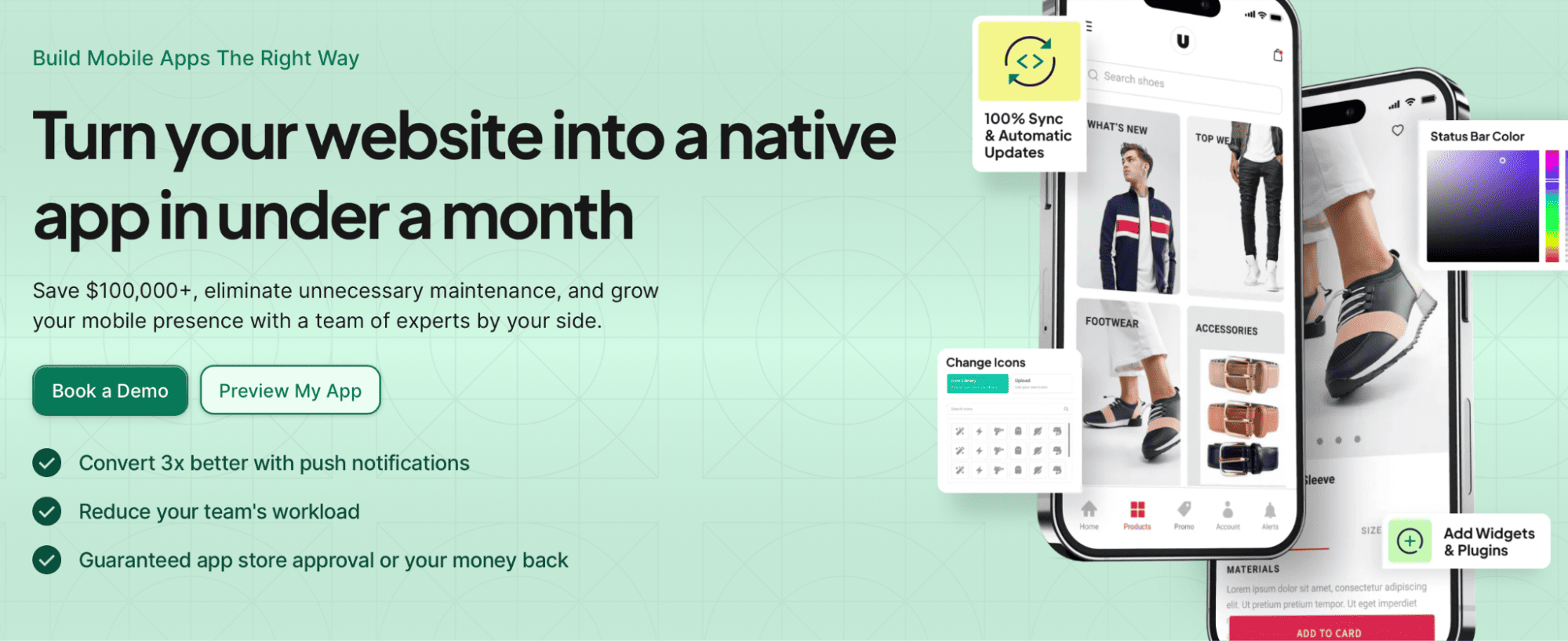 With MobiLoud, your apps will automatically mirror your websites to help you deliver the latest content. MobiLoud comes with personalized push notifications to cut marketing costs across email, SMS, and paid ads.
You can also create an offline-only experience that provides certain information or functionality when users have no internet connection. Plus, you can offer saved log-ins so that visitors will be shown personalized content when they open the app.
Key Features:
Native tab menu
Push notification preferences
Customizable splash screen
Native navigation
Automatic rating prompts
Offline mode
Social login
100 percent app approval guarantee
Integration with membership plugins
Price: The cheapest plan is the Startup package, which costs $170 a month.
3. AppPresser

AppPresser provides one of the easiest ways to convert WordPress sites to mobile apps with no programming skills. You'll build your apps exactly the same way you build WordPress sites, using a modified version of the theme customizer. For example, you can add pages, create menus, and customize the design.
Key Features:
Live app preview
WordPress Customizer
Device testing for app store submission
Login/registration feature to make a members-only app
Ability to build WooCommerce apps
Flexible push notifications
Native device camera
Social sharing
Option to build 100 percent offline pages
Ad network so you can monetize your app
Price: The Standard AppPresser app costs $59 per month.
4. Androapp

Androapp is one of the only app builders that's available as a WordPress plugin. However, as the name suggests, you'll only be able to build apps for Android.
With this tool, you'll get unlimited push notifications, caching, and infinite scroll. Plus, you can choose from multiple themes, apply custom colors, and upload logos.
Androapp is a complete white-label solution, so it's a great option for agencies.
Key Features:
Unlimited push notifications
Admob and Appnext ad units
Built-in sharing channels with WhatsApp, Facebook, and more
Image zoom, share, and save
Option to use WP Super Cache
Multiple themes
Dynamic menu settings
Price: Your mobile app from AndroApp is free for the first month. Then, it will renew at $66 per year.
5. AppMySite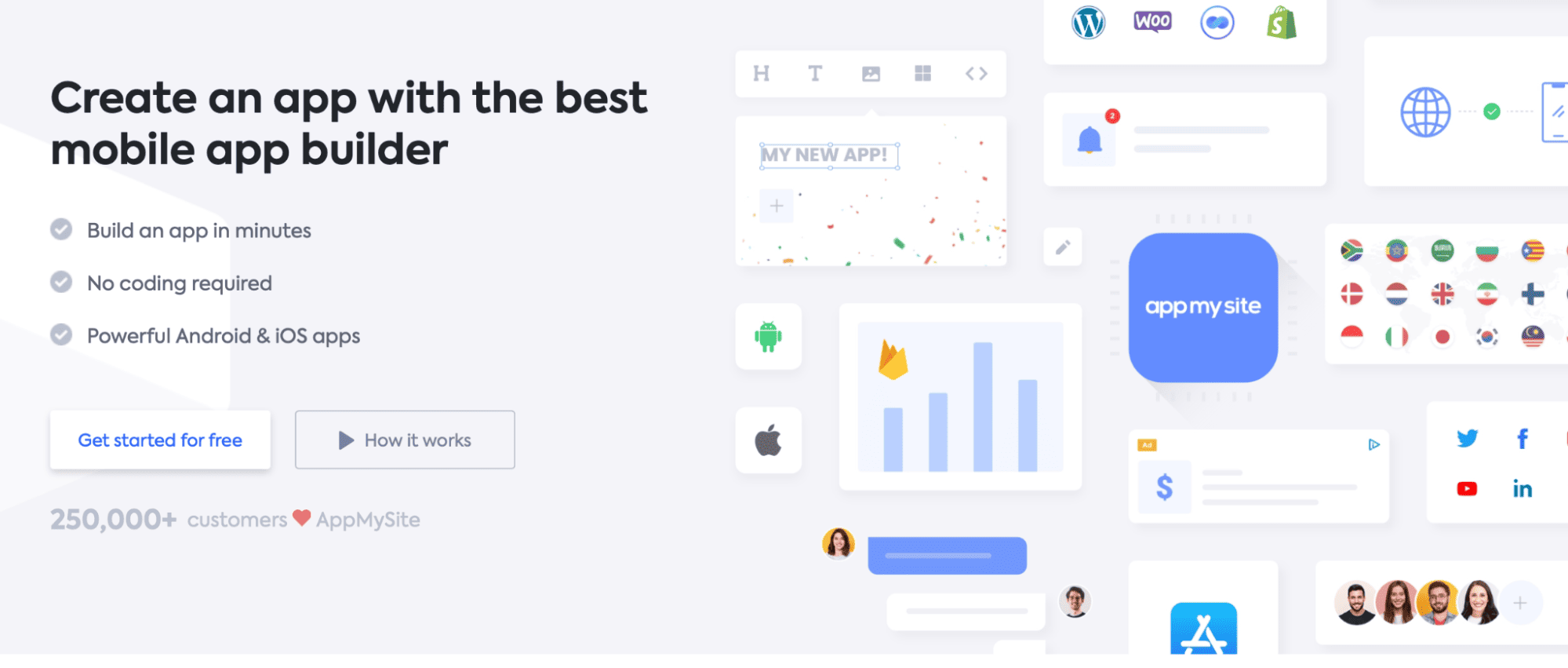 AppMySite is a popular app builder that lets you launch premium iOS and Android apps without coding. You'll gain full control over the design and settings with the seamless live editor.
Plus, it's super easy to customize your app. In just a click, you can add features that suit your business goals and app type.
This plugin is ideal for agencies, as you can invite team members to collaborate on your app and assign separate roles.
Key Features:
App icon and splash screen
Custom color palette
Ability to sync your website and app inventory
Categories for products, blogs, and more
Fully customizable home screen
Email and call support features
Share button
Integration with WooCommerce
Easy registration
Price: If you're converting WordPress sites into mobile apps, it will cost $9 per month. If you're converting a WooCommerce store, it will cost $19.
6. WPMobile.App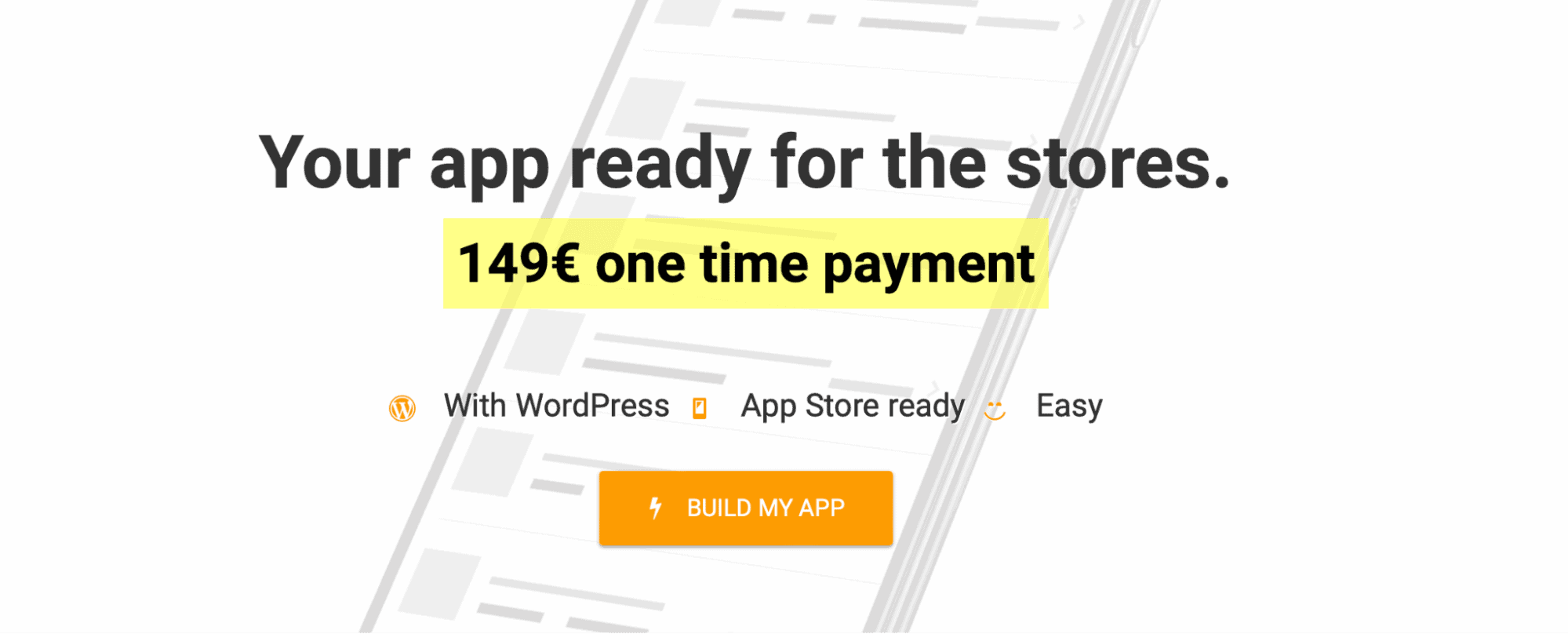 With WPMobile.App, you can customize your app theme with 20 widgets, 24 colors, CSS, and JavaScript. You can also choose from three menus and send unlimited push notifications directly from WordPress.
WPMobile.App is a solid tool if you want to improve your user experience. It comes with features like caching to optimize app loading. Plus, you can load the app in offline mode and easily translate your content.
Key Features:
One-time payment
Unlimited notifications
Unlimited downloads and updates
Customizable app theme
3 menu options
App optimizations
Ability to track Key Performance Indicators (KPIs)
Application translation
Price: For Android or iOS, you'll pay a one-time fee of 79€. However, if you want to use both, it will cost 149€.
Conclusion
When building websites for clients, it's important to prioritize the mobile experience. One of the easiest ways to do this is to convert WordPress sites into mobile apps. Fortunately, you can find plugins to do this for you.
To recap, here are six of the best plugins for converting WordPress sites to mobile apps: